A heartwarming video of Kieran Davidson taking a driving lesson with his dad has gone viral
Davidson's father shows incredible patience with his son, who is not very comfortable behind the wheel on public roads
The internet loved the father's reactions to Kieran's driving and it resulted in a beautiful and entertaining video
New feature: Find out the news exactly for you ➡️ find the "Recommended for you" block and enjoy!
Vlogger Kieran Davidson recorded a driving lesson he took with his dad; The internet can't believe his dad showed such a level of patience.
This is arguably one of the most stressful situations: a parent taking their child for a driving lesson.
A young man decided to record the script, and the footage is hilarious as his father goes on a journey of different emotions throughout the video.
The viral video of the young New Zealander was posted on Facebook by LADbible NZ, and the three-minute clip garnered nearly a million views.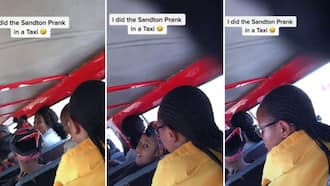 Lady pranks and pretends she's in a GTI and from Sandton Mall, taxi passengers rocked
PAY ATTENTION: Never miss the latest news – join the Briefly News Telegram channel!
Kieran struggles to pull away from an intersection as his dad helps him through the process of controlling the clutch, applying the throttle and using a handbrake, reports KD Vlogs.
Kieran's videos are so popular that he has amassed over 26,000 subscribers on YouTube.
Watch the clip below:
Take a look at some of the reactions from viewers:
Karen Nelmes said:
"Dad was so good, nothing worried him at all, he was awesome, I could have gone out and driven myself, lol!"
Jennie Sara Evelina Söderman said:
"This dad is so patient. I would be in absolute panic. PS I think he looks and sounds a lot like Alan Rickman…"
Shehrbano Hamdani said:
"Oh my God! It was so hilarious, but I salute his father for showing incredible patience in such a reckless driving practice."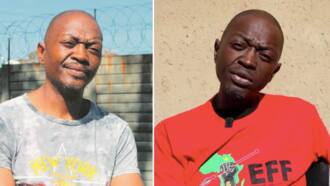 Former 'Yizo Yizo' Star Innocent 'Bobo' Masuku Returns From Rehab, Mzansi Hopes He'll Get Acting Gigs
South African female drivers are better than men, data shows
In brief News reported that South African female drivers are better than males when it comes to hard driving style and vehicle impacts.
The company focused on four areas: vehicle impacts, hard braking, hard acceleration and sharp turns among its female and male customers. The result was that women were superior to men in every way.
The description of vehicle strikes includes potholes, curbs or other vehicles. The data shows that 1.3% of the telematics company's total female customers were involved in vehicle impacts, compared to 1.4% for males.
New feature: check the news exactly for you ➡️ find the "Recommended for you" block and enjoy!
Source: News in Brief