Hundreds of driving schools across the country face closure following the National Transport and Safety Authority's (NTSA) decision to issue new licenses.
The NTSA's decision is aimed at weeding out malicious operators.
The NTSA has asked more than 500 driving schools to reapply for their operating licenses.
Vehicle traveling on a highway.
File
New business licenses will only be issued to those who comply with a list of new rules.
Several driving schools that do not meet the NTSA's infrastructure and personnel qualification requirements will be forced to close up shop.
It comes as the Kenya Driving Schools Association (KDSA), for the second time in five years, has gone to the High Court to stop the NTSA from implementing the new rules.
According to the court's motion, the KDSA says it has 700 paid members, most of whom face closure if NTSA rules are enforced.
The new rules require the NTSA to send officers to inspect each driving school to ensure that all institutions meet infrastructure and personnel requirements before issuing new licenses.
Before obtaining their license, driving schools must have waiting areas, management offices, theoretical classrooms with a model board of the city and a capacity for at least four students who must be seated at least one square meter apart, toilets and traffic signs. NTSA approved posters.
As for driving tutors, they must have achieved the equivalent of at least a D minus in their secondary education and hold a certificate in computer science or a similar qualification.
Additionally, driving schools must have at least two driving instructors and must also submit annual reports to the NTSA by the end of January each year.
The new NTSA rules were made public on March 10, 2020, through a gazette notice.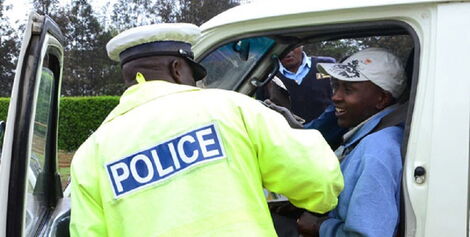 File image of NTSA Traffic Police inspecting a PSV matatu
File