For this Take This Job, KVUE's Hannah Rucker followed Ida Collins, a beloved bus driver for Austin ISD.
AUSTIN, Texas — If you grew up in Austin and rode the bus as a kid, chances are Ida Collins was the one driving it. She's been doing it for 45 years.
For this segment Take This Job, KVUE Hannah Rucker followed the longtime Austin ISD bus driver to see what a day's work on the roads is like.
A day in the life of Ida Collins means rising well before the sun. Every day, she quickly shows up at the AISD bus terminal, as she has done for four decades.
After checking in and greeting friends, Collins and Rucker linked arms and headed to the bus to check off the morning to-do list. They checked under the hood first, then the tires. Collins also showed Rucker how to get out in an emergency.
"[To do this] you have to love kids, and I love kids," Collins said.
PICTURES | Take This Job: Track an Austin ISD Bus Driver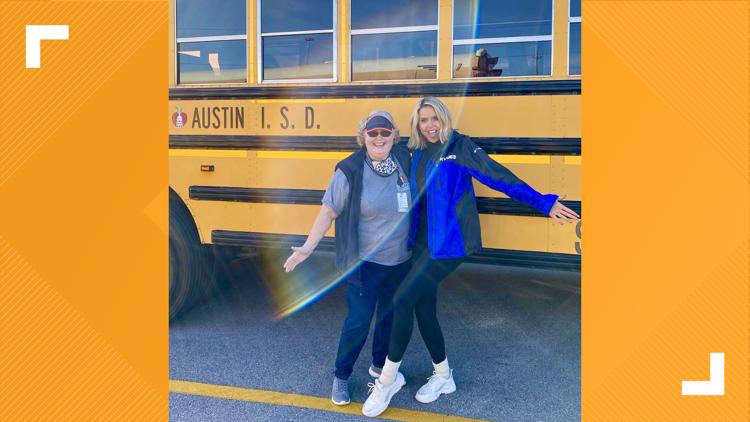 After each stop, Collins carefully scans his seating chart to see if anyone is missing that day. She knows the small details of each child as if they were her own.
"I also drove for a lot of their parents when they were kids," Collins said.
She uses Facebook to keep in touch with many former students, and some of them write her nice messages.
"A woman recently wrote to me, 'Once I met you, I couldn't have finished high school without you.' I just thought it was so sweet. I had no idea the impact I had on her," Collins said.
Currently, AISD is one of many local school districts experiencing a shortage of bus drivers. Collins said a commercial driver's license is required. One is good for eight years, and she said you'll be reimbursed by the district once you get a hard copy in the mail.
Currently, the starting salary for an AISD bus driver is $17 per hour. In July, this will increase to $21 per hour.
Click here to see currently open positions for AISD Bus Drivers.
For more stories like this, check out our Take This Job page.
Hannah Rucker on social media:Facebook | Twitter | instagram
KVUE on social media:Facebook | Twitter | Instagram | Youtube
"It's the real deal" | What it takes to be a small farmer
This Company Makes Sure Austin's Grackles Don't Stay Too Long
Mixing up a good vibe: Austin DJ shows how it's done
Cook 'Woof Waffles' with The Original Dog Treat Truck Company